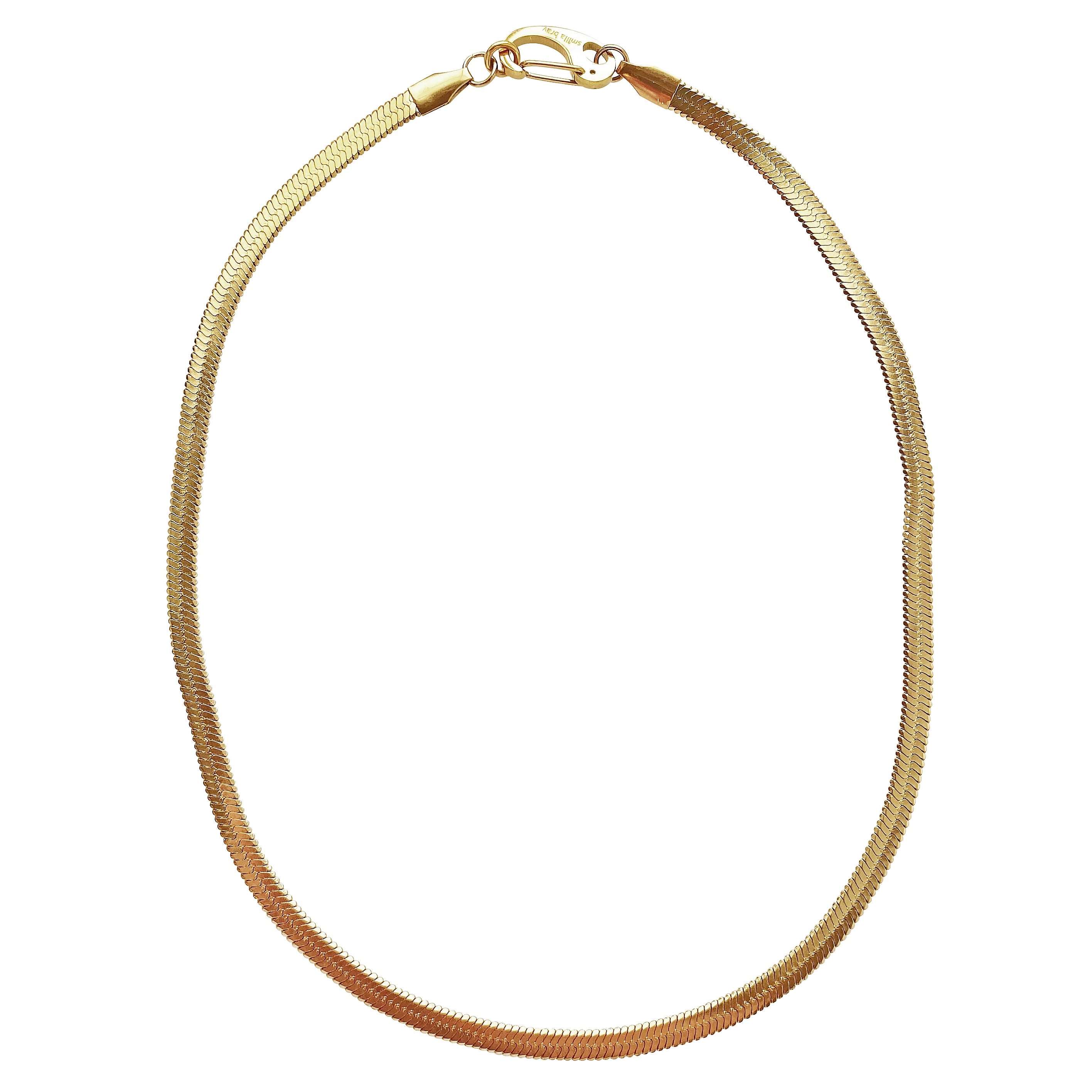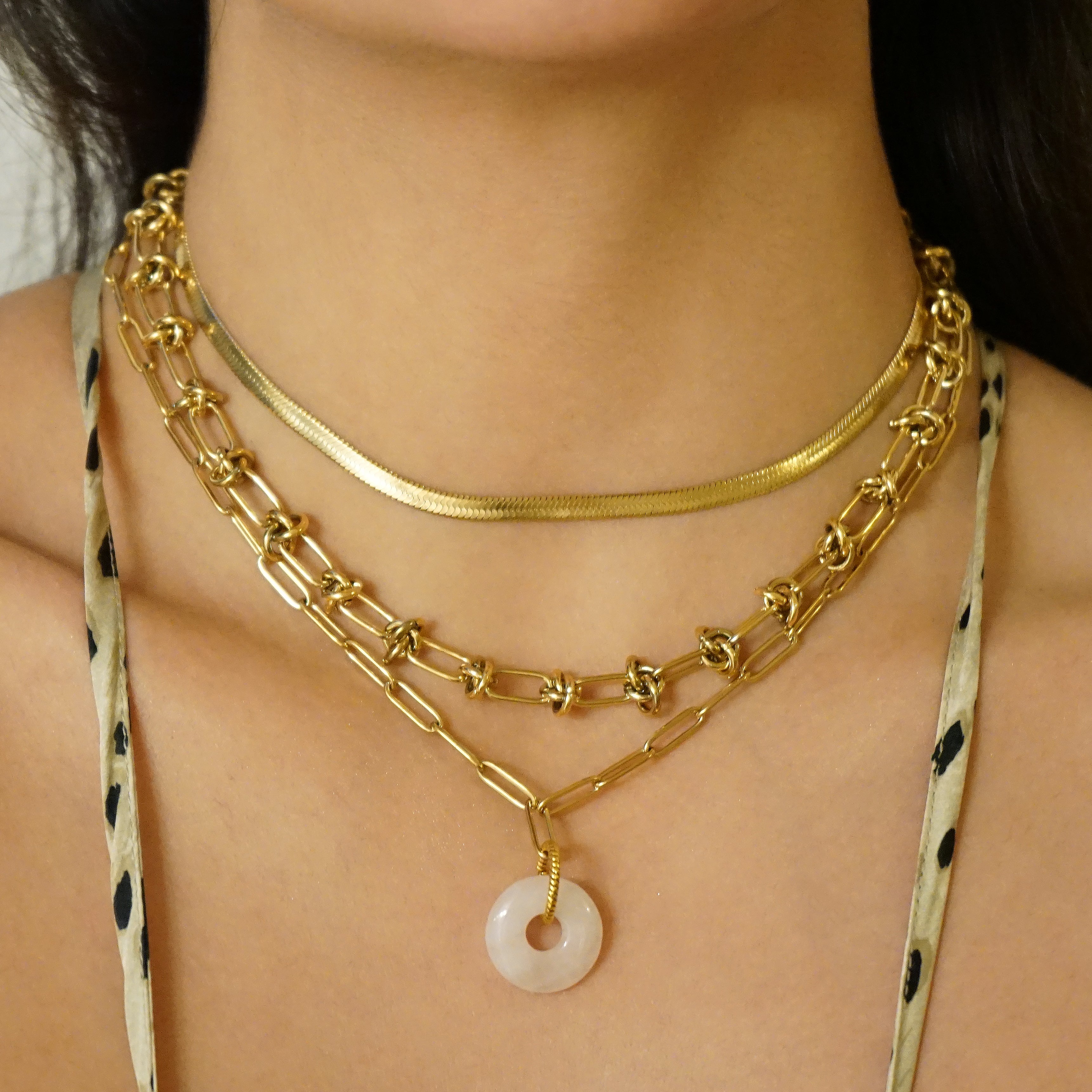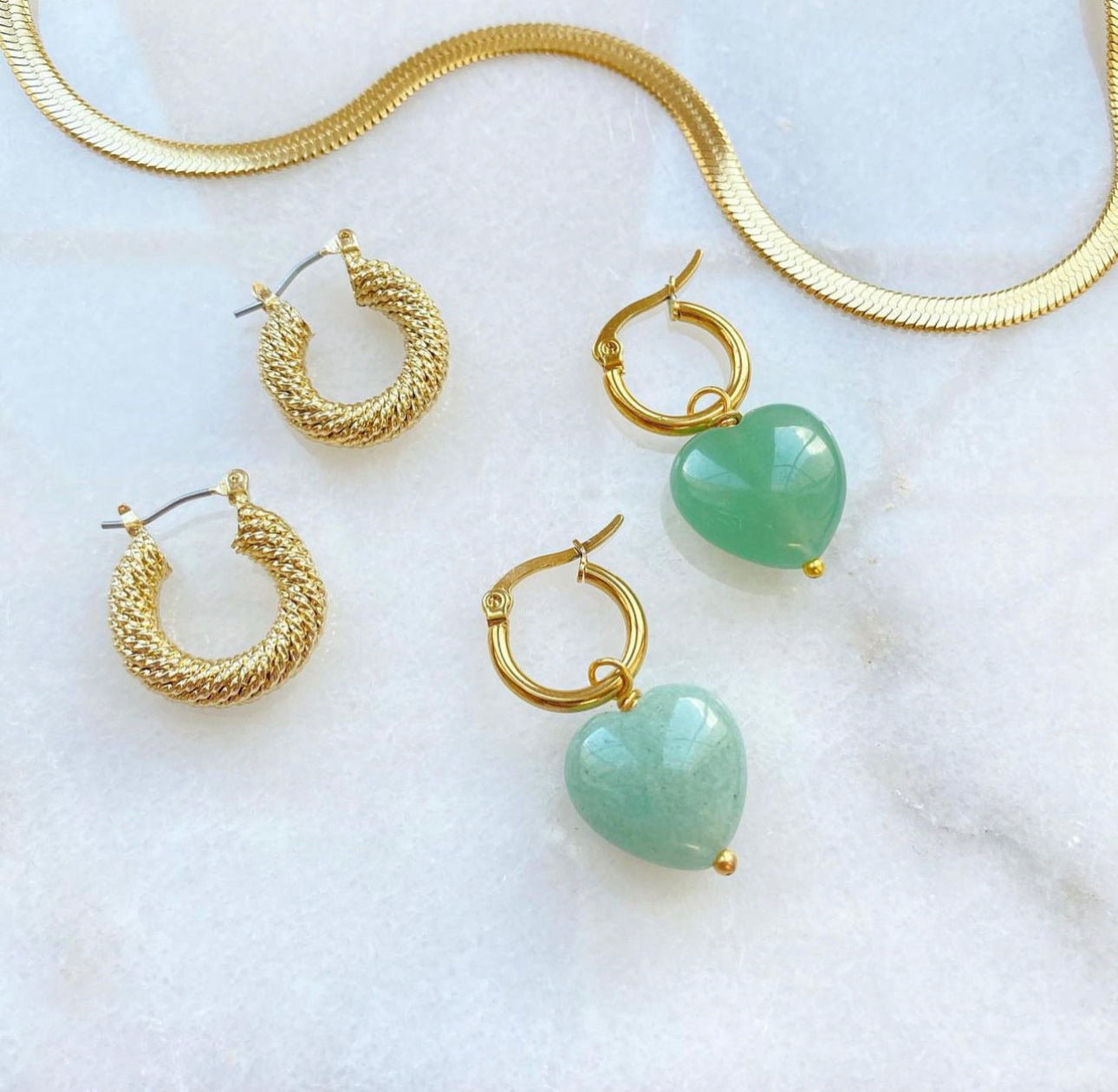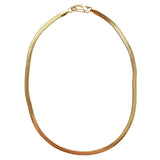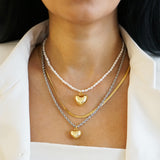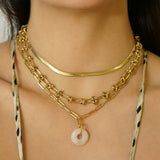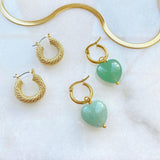 Herringbone Necklace Montana
Description

Care

Shipping Info
We love it golden! Our bijoux collection is perfect for letting the sunshine in your life. 
Our necklace Montana is made of three-times gold-plated stainless steel. 
Every piece is unique.
It comes in a beautiful Smilla Brav jewellery box. 
Measurements:
Length: 45cm
After each use gently wipe your jewellery with a soft cloth and store it in the original Smilla Brav jewellery box or dust bag. Always protect it from sharp blows, scratching, chemicals, sunlight and heat/cold. Keep silver in a dark, cool and dry place. Salt water, detergents, harsh chemicals such as chlorine bleach, hairspray, perfume and perspiration can cause damage and discolouration. We use a lot of vintage and reused components in our designs, please make sure to use and store your jewellery according to the care instructions. 
We aim to dispatch every order within 2-3 business days. Please note, some items are crafted after your order is placed, which may extend the shipping time. This extra care ensures you receive a product of exceptional quality.
---
made by hand in our studio in Heidelberg
free shipping on orders over 175€
tailored sizing available upon request
Herringbone Necklace Montana
FAQ

"Is your jewelry resistant to tarnishing?"

"Our jewelry is designed to be tarnish-free. However, it's important to avoid exposing it to saltwater, perfumes, and chemicals. Additionally, some components may be recycled, reused, or vintage, so please handle them with care."

"Can you confirm if the product is genuinely handmade, or is it merely a claim of sustainability without substantial proof?"

We do not engage in large-scale, factory-style production. Our pieces are created in small batches, ensuring individual attention to detail. We are always happy to share insights into our production process and introduce you to the artisans behind our creations. This transparency is a testament to our commitment to handmade craftsmanship.

"Could you provide details about the guarantee?"

"All items undergo thorough inspection before being dispatched, ensuring top-notch quality. Additionally, we offer repair services to address any potential issues."

Why do your products command a higher price compared to similar alternatives?

Our products prioritize quality and sustainable materials, occasionally resulting in higher pricing compared to similar looking items. Factors include customization options, small batch production, fair wages for artisans, and investment in unique features. And good to know: Relative to our established standards, the price is considered affordable.

Why don't you offer free returns?

Most of our products are crafted after we receive your order. Individually made items often require a significant amount of time and labor to produce. Offering free return shipping can be costly for businesses, especially for smaller ones. And most important kindly keep in mind the environmental impact as you make your decision.

Is it possible to create a necklace in a specific, non-standard size?

Yes, certainly! Please specify your desired size in the notes during the checkout process. If there is any price difference, we will promptly inform you.
Shipping & Handling

Shipping

Orders (Mon-Fri, excl. holidays) processed within 48-72 hours.
Shipping from Heidelberg, Germany via Deutsche Post, UPS, or DHL Express.

Free Shipping:

Worldwide for orders above 175€.

Shipping Rates:

Germany:

Standard (6-12 days): 5.00€
DHL Paket (2-6 days): 6.00€

Europe:

Standard (6-15 days): 9.50€
Express / UPS (3-15 days): 20.00€

Worldwide:

Standard (7-45 days): 10.00€
Express / UPS (2-15 days): 28.00€

Express Shipping Note:

Not guaranteed for all items due to unique, handmade process.

Important Details:

Ensure correct shipping address.
Buyer handles import duties & fees (if applicable).
No P.O. Box deliveries.

Choose Wisely:

Select shipping option that suits your schedule.

Items not accepted upon delivery or undeliverable:

National: 10.00€ processing fee.
International: 25.00€ processing fee.
About Us

Our Founder

With a degree in Fashion Marketing and Graphic Design, Ebru Gulsel founded Smilla Brav in 2008 after a successful career at industry leaders like Sharp Corporations and IQVIA. Her handmade jewelry reflects a seamless blend of trendiness and sustainability, catering to the modern woman seeking timeless elegance. Each piece embodies Ebru's commitment to quality and style, making Smilla Brav pieces a go-to destination for unique, artisanal accessories.

The Journey

Since 2018, Smilla Brav has expanded its focus to include exquisite, sustainable fine jewellery. Handmade by master goldsmiths at Istanbul's Grand Bazaar, these pieces blend time-honoured techniques with creative genius. Guided by a deep love for nature, we primarily use recycled sterling silver. This commitment to sustainability defines our fine jewellery line, offering pieces that combine elegance with environmental responsibility.

Brand Philosophy - What's Next?

Continuing our sustainability journey, we're now breaking down barriers to wholesale. Introducing 3D printing with recycled materials, this is just the beginning of our eco-conscious evolution. Our vision marries artistry with innovation, pushing the boundaries of creative works. With each piece, we strive to redefine the landscape of sustainable jewelry.
Materials
Elevating Craftsmanship with Integrity
Each piece is a testament to our commitment to sustainability and quality craftsmanship.
Recycled Brilliance:
We believe in the power of repurposing. Our jewelry is crafted from recycled materials, breathing new life into resources and reducing environmental impact.
Stainless Steel and Sterling Silver:
Our foundation lies in the selection of high-quality stainless steel and sterling silver. These materials are not only durable but also exude timeless elegance, ensuring your piece endures through the ages.
Gemstones and Selected Pearls:
Every stone in our collection is carefully chosen for its individual character and allure. From vibrant gemstones to meticulously selected pearls, each element is a testament to nature's artistic palette.
Local Producers, Lasting Relationships:
We champion local craftsmanship by sourcing our materials from trusted regional producers. This ensures that every component of our jewelry reflects the care and skill of our community.
No Compromise on Quality:
We never compromise on quality. We do not offer wholesale items, ensuring that every piece bearing our name meets the highest standards.
Make An Appointment
Studio Visit: Witness the Craftsmanship
We open our doors to those who wish to witness the artistry that brings our jewelry to life.
What You'll Experience:
Behind the Scenes: Gain an insider's perspective on the craftsmanship that defines our brand.
Meet Our Artisans: Witness skilled artisans at work, infusing each piece with passion and precision.
Up Close and Personal: Get a firsthand look at our curated collection, where every detail tells a story.
To arrange your visit, please contact us at appointment@smillabrav.com